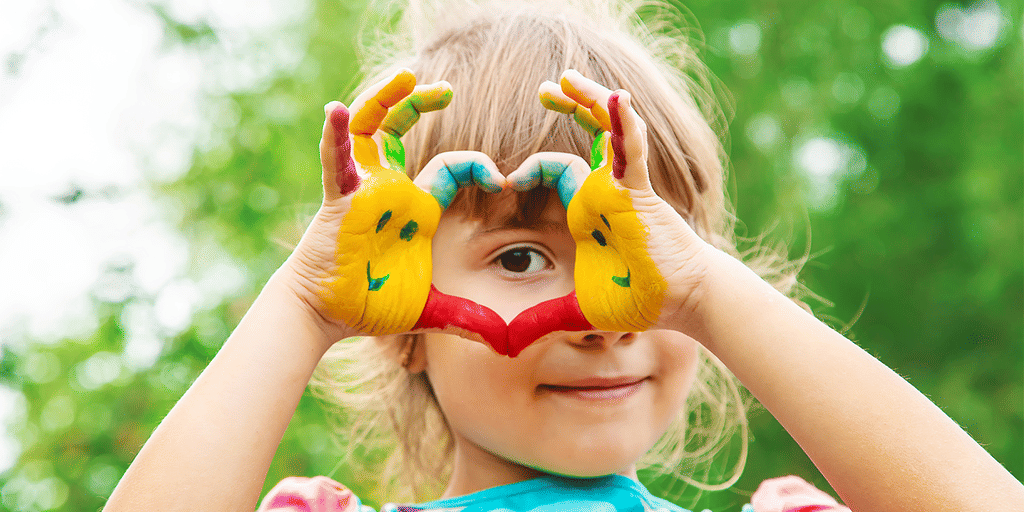 How the Art Sun Rises
Preschool Teacher

Burcu Bal,
November 12, 2021
art is nothing Undoubtedly, it is good for everyone. This pleasure, which some people take visually, some auditory, some tactilely, while healing our soul, allows us to reveal ourselves inside. Now sit back and start listening to the following music with a tea/coffee: "Field - Evengy Ginko"
"Parenting is one big adventure. Arousing your child's curiosity will wake yours up again, and reviving yours will help you awaken your child's. " - Julia Cameron"
Children explore the world with their hands. E.g; Before using cutlery in infancy, have you ever thought why we put food in baby's hands? When babies touch the food with their hands, both the texture and smell of the food they eat reach the brain and place it in their memory, and there is a development related to that food.
Art is just like that: it is one of the branches that develops the child's brain and contributes to the development of intelligence. When I say art, I'm not just talking about desk activities. You can plan a trip. Depending on your child's age, it can be a market or a museum. Even a store! The sounds he will hear there and the objects he will see will definitely be shaped and stored in his memory.
It is possible to combine an animated game with art. It could be a music and dance game. There is a game that I can recommend for the 0-6 age range: The Sculpture Game. Music plays and the players dance. When the music stops, everyone becomes a statue. Thus, a time to talk about the sculpture is created.
Speaking of sculpture... Have you ever witnessed the serenity, attention and happiness on the face of a child playing outside with mud and earth? Children generally prefer and like to play with natural materials in daily life more.
I think it is because they are smarter and more realistic individuals than us. The world of dreams they create with their innocence is a great emotional beam that ignites their creativity. With only these two elements; so you can have a great time with earth and water.
Art activities not only with paint, brush and paper; you can do with anything. Many of us are familiar with potato, onion and string printing. But cabbage, lettuce, tangerine… you can see the texture of many natural products you can think of on paper. For example, painting a lace at home and printing it on paper enables the child to perceive different shapes and textures. Also, the happiness of a 12-month-old and later child when finger-hand-footprint is applied still amazes me. Try it, your kid will love it too!
Cut from leftover paper materials Paste collages, painting a pinecone and making it a door decoration, and the creation of it by your little artist will add a sense of belonging, success and self-worth, while this pleasant moment you spend together will leave a smile on the faces.
Participating in art activities with your child;
To stimulate your child's sense of curiosity and stimulate your own curiosity in the process,

Helping your child turn their passion into art,

To strengthen the child's ability to express himself,

To refresh your own creativity tank while improving your child's creativity skills,

Creativity and creative lets you learn how you can achieve developing a lifelong passion for the process.
Reading writing activities begin with childhood doodles. I would like to make a few suggestions to help you parents (caregivers) at this stage. As a mother who evolves, changes and learns in this way, I would like to talk about a book: "Art Education for Children - Susan Striker"
Striker believes that giving a coloring book to children's hands blunts creativity and that instead of presenting many colors in front of a small child, one book. He talks about causing it to bind with color. He emphasizes the importance of presenting a white paper on a black background and a black paper on a white background in order to create a figure-ground perception. Instead of starting directly with the pen; He recommends using finger paint first, then a more angular crayon (feeling the texture of the crayon sends a message to the brain that facilitates learning) and lastly a pencil.
The painting is very beautiful, "It is very beautiful, well done!" suggests focusing on the colors, motifs and lines used in the painting and talking about them. He argues that the painting should not be compared to another object, that creativity is not dulled, and that "painting like a child is essential for the importance of". In addition, while the book talks about the importance of the scribbling phase, it also includes what awaits you on the table month by month.
I can't help but mention Tolkido when it comes to creativity and interaction. Tolkido's DIY sets open up space for children's imagination and support their creativity. Your child can draw or paste any picture on the do-it-yourself cards. He can animate his pictures with sounds by loading the sound he wants on the cards. E.g; You can support both visual and auditory perception by drawing a cat together and recording the "meow!" sound on the card.
One of the most creative tools to support children's skills is art. There are many activities and books to support the child's artistic skills. But what we need before the book and all these suggestions is the safe space given to the child, the material presented, the support given to the sense of curiosity and adventure that keeps the imagination alive.
Sources
Striker S. (2005). Art Education in Children. (Trans. S. Akın A.) Epsilon Publishing House, Istanbul. (Original Title: Young at Art)
Cameron J., Lively E. (2014). The Artist's Way for Parents Raising Creative Children. Red Cat Publishing House, Istanbul. (Original Name: The Artist's Way)
Burcu Yuksel Bal
Preschool Teacher